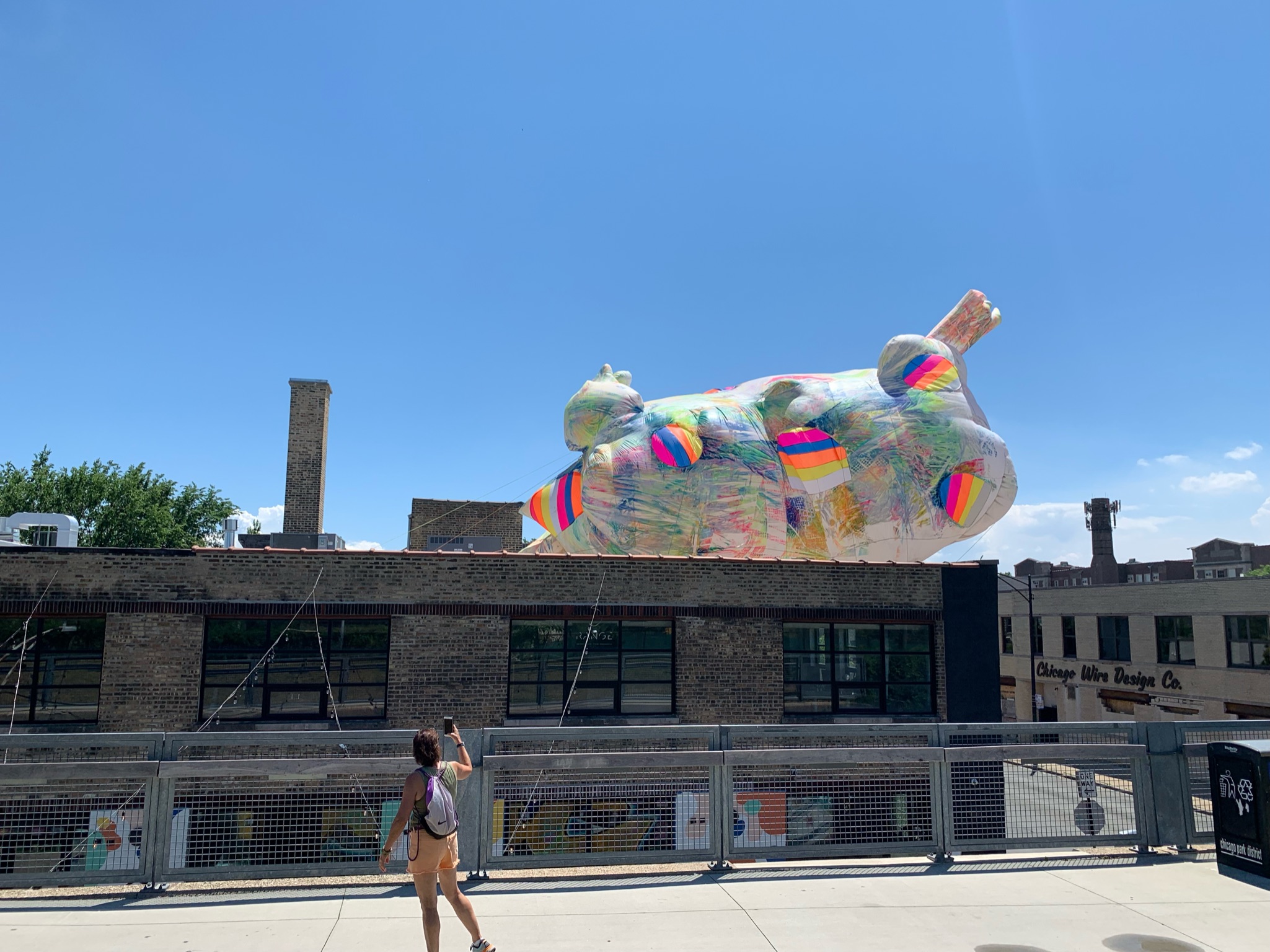 Johalla Projects collaborated with Stocking Urban Development, new owners of Kimball Arts Center, to curate and orchestrate an art program for the Kimball Arts Center building.

Kimball Arts Center is a hub of Chicago creativity located next to The 606 Trail, where Logan Square meets Humboldt Park. The building recently underwent major renovations and has welcomed new retail, commercial, and artist studio tenants into the space. Looking to inspire creativity and collaboration among other tenants and surrounding residents, Stocking Urban connected with Johalla Projects to design an art program.

Johalla conceptualized an Artist in Residence (AIR) program where Chicago-based artists will receive studio space and display new projects at the Kimball Arts Center. Artist Claire Ashley was chosen as inaugural Kimball Arts Center AIR. Ashley mines the language of painterly abstraction, monumental sculpture, slapstick humor, and Pop Art to transform ordinary materials into inflatable painted sculptures. Ashley's Adam's Madame, Version 2 will be on the Kimball Arts Center roof periodically throughout summer 2021. Other inflatable sculptures will be on display throughout the building during her residency (June- August 2021). New AIR artists will rotate through the Kimball Arts Center quarterly.

In addition, Johalla helped commission Chicago artist Emmy Star Brown to design and paint a mural on the exterior of the building. Brown's use of clean lines, thoughtfully structured shapes, unique layering techniques, and vibrant colors gives her universal appeal and has firmly established her as a leading force in the art scene. Her abstract work features fresh palettes and organic additions designed to encourage engagement. The result, always a bold visual statement designed to drive wonder and remind the viewer that there's beauty in reading between the lines. The mural will invite the surrounding community to venture into the space and explore what Kimball Arts Center has to offer.

Johalla and Stocking Urban hope each artist will "make their mark" on the building's physical space and community culture through public exhibitions, creative programming, and artwork within the building.