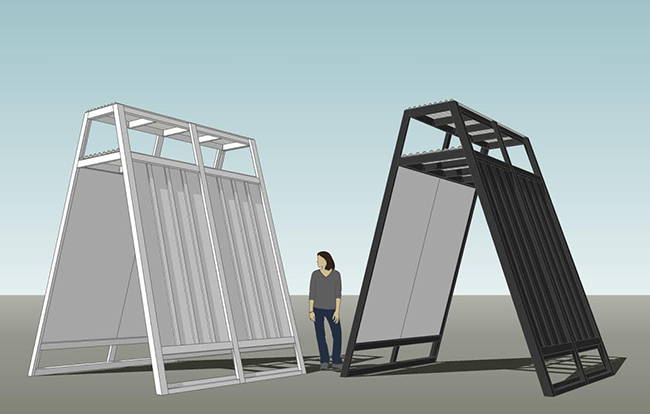 Pitchfork 2014

Geometric Village
Johalla Projects partnered with Pitchfork Music Festival in 2012 and 2014 to create large-scale immersive art installations during the public events.

In 2012, Johalla Projects commissioned Chicago artists Matthew Hoffman and Adrea Jablonski. Hoffman constructed eight-foot tall wooden sculpture letters that spelled out "These Moments" and spanned 80 feet wide. Jablonski worked with the local landscape and integrated hundreds of balloons into the tree branches and canopy. Varying in size and color, many of the balloons glowed in the dark, creating a night installation completely different from the vibrant day-time perspective.

In 2014, Johalla Projects commissioned work by artists Heather Gabel and Chat Kouri. Working collaboratively, the two artists merged their visual aesthetics to construct a "Geometric Village" of house-like structures. Available for visitors to walk through, sit under, and engage with, the architecture also included and exhibition of artworks. Stepping outside the normal festival experience, this visual village offered a spatial reprieve for reflection, communion, and connection.

New this year, Pitchfork Music Festival will feature two large-scale art installations from Chicago-based Johalla Projects. Pitchfork enlisted Johalla Projects's Director Anna Cerniglia to produce the two installations from local-Chicago artists Matthew Hoffman and Andrea Jablonski. Hoffman will create a large sculpture next to the Blue Stage, spelling out "THESE MOMENTS" in eight foot tall wooden letters, elevated twelve feet high and 80 feet wide. Jablonski will transform the VIP Area by covering trees with hundreds of balloons of various shapes, sizes and colors, including glow-in-the-dark and LED balloons, morphing the trees into sculptures and canopies.